If you have been wondering what has happened to Project Read All The Books….well…I have lost count. Mainly because I went to the Magic City Luncheon in November. I picked up lots of great books and I can't wait to read them. This plus the fact that I did buy a bunch of Harlequin Presents from my library booksale has resulted in more books. Too many for me to think about. So I am going to resume Project Read All The Books after the New Year. During that time I am going to become a reading demon! I'm hoping to make a slight dent in my TBR pile so when the project starts back up I won't be so far behind. That is the plan anyways.
I do want to let y'all know about a great series I just finished up. For a long time, I have had Size 12 is Not Fat by Meg Cabot on my TBR list. I have read some of Meg Cabot, but I haven't found one that I loved. I liked the Princess Diaries but I thought the Abandon trilogy was decent (I'm biased because Persephone's story as always been a favorite). Anywho, I was looking for a light hearted ebook a few weeks back so I added my name to the holds queue for Size 12 is Not Fat.
I am not a mystery person. It isn't a genre that I avoid, but I definitely don't seek it out. Maybe I just haven't read the right mystery yet. Feel free to recommend a title or series to me! I didn't really didn't know what to expect from the first Heather Wells Mystery.
Size 12 is Not Fat
introduces us to former teen pop star, Heather Wells. After losing her record deal, all her money (thanks Mom!), and her fiancé, Heather is the poster girl for "down on your luck." Landing a job as an assistant director of the local college
dorm
residential hall isn't exactly on Heather's goal list, but a girl has to do what a girl as to do. But when the students start mysteriously dying, Heather gets way more than she bargained for. Now with the help of her dreamy landlord (also the brother of her ex-fiancee), Heather sets out to solve the recent mishaps at Death Dorm.
Heather Wells is a wonderful character filled with tons of sass and insecurities. She is real and I think that is why I connected with her so much. Also, the character of Cooper (landlord/brother of ex-fiance/private investigator/man of Heather's dreams) is a delightful addition. I love the fact that he is so logical. Find a dead body? Hmmm, lets call the police! I read about plenty of big macho men, so Coop, who is logical (but deadly!) is definitely a refreshing change.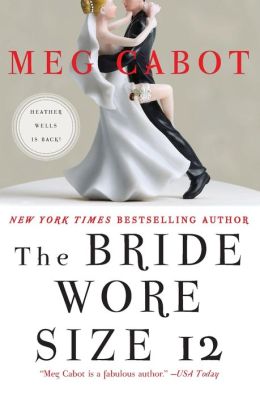 I ended up tearing through the whole series in a week. After reading the latest novel,
The Bride Wore Size 12
, I was scared that I reached the end of the series. Cabot was only contracted for 5 novels, but there is always a possibility that the Heather Wells Mysteries could continue. I loved the books. Each was witty, charming, and laugh out loud funny. As I tore through them, I couldn't wait to get my hands on the next one. I was filled with such sadness when I finally finished
The Bride Wore Size 12
, but at the same time Cabot wrapped up the story beautifully. I have read plenty of endings to series, but I have never read one that was as perfect as this one. Cabot gives her readers exactly what they want with a big bow on top.
If you have the time, I highly recommend this series. They are light enough you can probably knock them out in one day. Make sure you have the other ones around though! They aren't cliff hangers, but you just don't want them to end!